The Ultimate Colossal Burger, Ruby Tuesday
Tuesday, February 28 2006 @ 07:48 pm UTC
Contributed by: Billy
Houmam first put me onto this place, Ruby Tuesday. It certainly does look like a fine burger establishment! And as many of you might already know, they have a mighty burger called, "The Ultimate Colossal Burger", two half pound burgers on a triple-decker bun with American and Monterey Jack cheeses! It got me to thinking, who's actually tackled and conquered this masterpiece, and do their stories have any entertainment value? Well this guy doesn't look too happy about it all, but "Ghetto Force" have had speed eating challenges of the Colossal since 2002! Read on for more fun facts...
[CONTINUED]
First off, lets get some stats on this fine meal
ULTIMATE COLOSSAL BURGER®*....................1786 calories/ 126g fat / 77g net Carbs / 4g Fiber
Hahaha... ok so it's not the healthiest option, but hey, who cares?
How about these guys, "Ghetto Force" has had an eating championship with the Colossal since 2002. Here's their story:
From: http://www.udayton.edu/~ultimate/Serious/ColossalChallenge.htm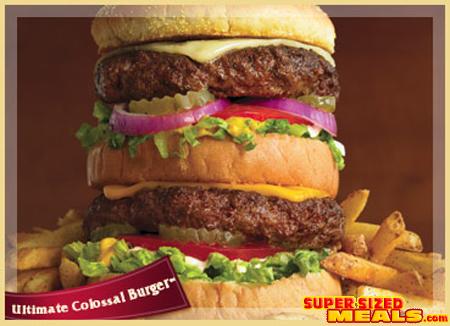 | | | |
| --- | --- | --- |
| Champion | Time | Years Held |
| Kevin (pictured) | 4:08 | OU Halloween 2005 - Present |
| Chris Yakopcic | 5:08 | Sectionals 2005 - OU Halloween 2005 |
| Jesse Burnette | 5:13 | 2003-2005 |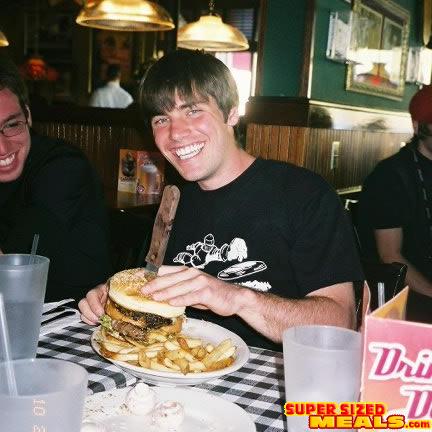 Kevin laughing at the colossal burger, knowing it is no match for him.
Old News:
Challenges can be made after tournaments when the team "gets serious" at the nearest Ruby Tuesday's.
Ghetto Force started the Colossal Contest in 2002 after a phenomenal performance at the MudBowl Tournament in Alabama. Then junior Jesse Burnette consumed the first 1 lb. burger (it has a steak knife in the middle as the toothpick holding it together) under timed watch. Later in his career Jesse had his game face on and set the record.
In years past no one has come close to catching Jesse, even Jesse himself could not match his 5:13 time. However, that all changed with a heroic challenge from true freshman Chris Yakopcic. The evening started after club sectionals in the Fall of 2005 and the challenge was on once the team had a small history lesson of Ghetto Force. Chris had another challenger that night, senior Joe Warth, who assisted in Chris' record time by talking smack and pumping him up, a little too much though as Chris paced out the record time. On the momentous night, the waitress made sure Chris was alright and warned him before he started not to get sick. Chris came close but kept the burger down and as senior Michael Rice read off the official time of 5:08, the table of 12 went crazy. Keeping the tradition alive, new members are encouraged to challenge.
And there's this review from Ebay:
From: http://reviews.ebay.com/Ultimate-COLOSSAL-BURGER-Ruby-Tuesdays-Outdoes-BK_W0QQugidZ10000000000099784
Ultimate COLOSSAL BURGER - Ruby Tuesdays Outdoes BK's Meatnormous Burger!
I've found it. I've found heaven. I thought heaven was a Burger King Meatnormous for breakfast. Then I saw a TV ad for Ruby Tuesday's that featured a triple-decker hamburger... wow. That was enough to peak my curiousity. I visited the Ruby Tuesday's headquarters and found out that it was the: "Ultimate COLOSSAL BURGER" - A two half pound burgers on a triple-decker bun with American and Monterey Jack cheeses!
While the Meatnormous sandwich is awesome in its audacity and boldness - its not actually tastey (nor was it really designed to be). The Ultimate Colossal Burger though is massive in size AND in taste. Any burger served with a steak knife sticking through its top is fine by me! Weighing in at 1786 Calories and 126 grams of Fat - you can easily break the 3,000 / 200 meal with a frothy beer and some french fries. Remarkable...
---
SupersizedMeals.com
http://www.supersizedmeals.com/food/article.php/20060228183244640