The Fat Bastard Burger, Embassy Hotel, Brisbane, Australia
Friday, March 03 2006 @ 01:04 am UTC
Contributed by: Billy
I spotted this on their menu last week, and felt it my duty to tackle this challenge. "The Fat Bastard Burger". Their menu states, "triple meat patties, triple cheese, on a high fat bread roll, chips and no rabbit food". And yep, that's what it was. All meat, all cheese, all butter, no filler

[CONTINUED]
Friday means pub lunch, and today was no exception. Last week we popped into the Embassy, lured with their new low priced menu. I spotted "The Fat Bastard", and knew I had to document my experience for the good of all supersizers...
First stop, the bar, and a nice cold beer to set the right mood... mmmm... beer....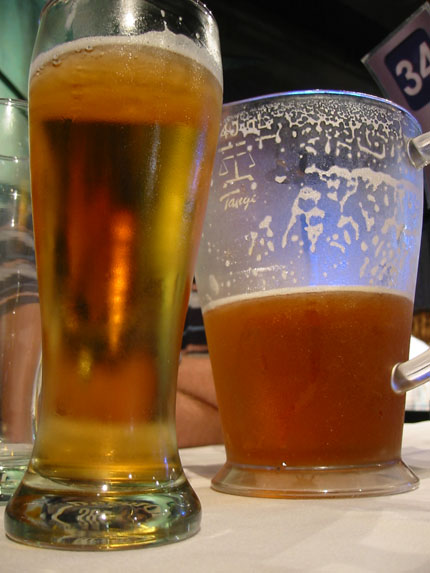 The burger came out in pretty good time. 3 meat patties, cheese, on a fat bun.
Unfortunately, after popping the lid, looks like this supersized snack was super-over-grilled under the griller! You know when you grill cheese for too long, and it looks like the surface of Mars? Yep, that's what this was like...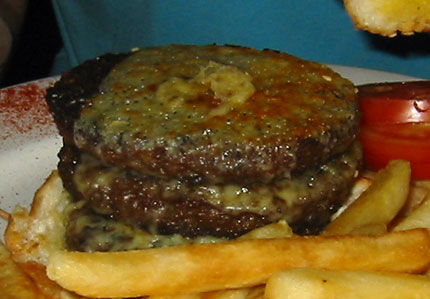 But to give credit where credit is due, I managed to take the first full bite without having to disassemble the burger in question.... but only just...
Half way through the meal, and I have to admit, I've enjoyed other burgers a lot more than this. I think there really is some sort of zen balance in burger creation, where the salad offsets the greasy patty. Unfortunately this was all pattie, all beef, cheese and butter. Fun for the first few bites, but you start to feel the pain once you get into it...
But the show must go on.... and so must the beer consumption :)
Soon after, the task had been completed. The burger, gone. The fries, gone. The beer, topped up a few more times, then gone.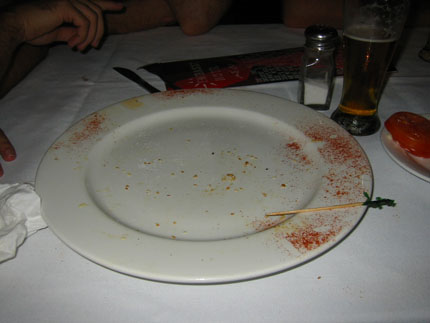 So overall, while it wasn't your 15lb burger, it was big enough to be a bit of fun, but really needed a LOT more flavor. I'm all for supersized meals, but how much you enjoy it is really important. Patties needed to be a lot spicier, and a bit of sauce wouldn't have hurted either. And what's with the Paprika anyway? Put more of it in the pattie instead of the plate!
Will give credit to the Embassy though for the new menu, lots of well priced meals that are really good.
If you're after some close-ups of the burger, and a few other pics that weren't shown above (like the front of the menu, pretty funny actually) you can get them here
---
SupersizedMeals.com
http://www.supersizedmeals.com/food/article.php/20060303002826661