Pa. Pizzeria Goes for Record-Size Pizza
Saturday, March 25 2006 @ 08:23 pm UTC
Contributed by: Billy
flynnfx originally posted this story in, but it didn't have any photos. I managed to find one from the Washington Post that had a photo. I like photos...
From: http://www.washingtonpost.com/wp-dyn/content/article/2006/03/20/AR2006032001330.html
PITTSBURGH -- A pizzeria is vying for a spot in Guinness World Records for the world's largest commercially available pizza. The $99, 150-slice pizza isn't a one-time deal. In fact, The Big One is already available, though Mama Lena's Pizza House has had few takers so far.
[CONTINUED]
The would-be recordsetter measures about 3 feet by 4 1/2 feet and takes up nearly all the space in the shop's brick oven.
The current record holder is a 4-foot diameter pizza offered by Paul Revere's Pizza in Mount Pleasant, Iowa. Dubbed the Ultimate Party Pizza, it uses more than 10 pounds of dough, 48 ounces of sauce and about five pounds of cheese.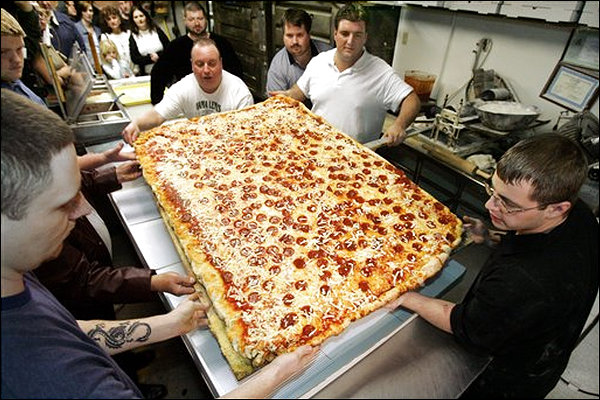 The staff at Moma Lena's Pizza House in McKeesRocks, Pa., boxs a pizza they hope will be heralded as the world's largest pizza for retail sale Monday, March 20, 2006, in McKeesRocks, Pa. The 150-cut monster measured 55 inches by 37 inches. It took 10.03 pounds of cheese, 14.97 pounds of dough, 8.26 pounds of sauce to contruct, and 20 minutes to bake. The "Big One" costs $99.99 with one topping. (AP Photo/Gene J. Puskar)
A tip for Mama Lena customers: Call ahead. The Big One takes about 15 minutes to prepare and another 20 to 25 minutes to bake, said Rob Carrabbia, whose wife, Wendy, owns the pizzeria in the suburban Pittsburgh town of McKees Rocks.
"The only way you're looking to order it is if you want a big pizza," Carrabbia said.
Mama Lena's was already offering a 30-inch by 30-inch, 64-slice pizza when Carrabbia read about the current record holder in a trade magazine and figured he could beat it.
"If I'm already making one this big, I can make one another half as big again," he said.
The pizza has been on the menu for more than a year. So far, about 10 have been sold, including for birthday parties and to a school for its basketball team.
"It's 20 pounds of dough, it's a 1 gallon of sauce, 15 pounds of cheese and a lot of tender love and care," Carrabbia said Monday. "We cook the old fashion way, stone and cornmeal."
Carrabbia said Guinness requires that the pizza's making be videotaped and witnessed by a public official. He planned to attempt the record Monday.
Besides the novelty, Carrabbia said anyone who orders The Big One is getting a bargain.
"It's less than a dollar a slice" for a plain cheese pizza, he said. Toppings are extra and a white pizza _ no red sauce, but garlic, cheese and marinated tomatoes _ costs $120.99.
The category is different from the world's largest pizza. That record was set in 1990 in South Africa, where Norwood Hypermarket made a pizza 122 feet, eight inches in diameter, using 9,920 pounds of flour, 3,968 pounds of cheese and 1,984 pounds of sauce.
For its 50th anniversary in 1994, Guinness named that pizza one of its top 10 most astounding feats.
Comments (0)
---
SupersizedMeals.com
http://www.supersizedmeals.com/food/article.php/20060325202310523