While technically it's not a "meal", many parts make a whole, right? And lets face it, any big eater loves a good buffet, so I couldn't pass up the chance to post these photos! The Las Vegas Hilton and Alka Seltzer (celebrating their 75th anniversary) have officially created the Worlds Largest Buffet, consisting of 510 different dishes.
Here are some more interesting facts about the worlds largest buffet...
A six-foot high ice sculpture will be created for the event and will weigh more than 400 pounds.

Now for photos!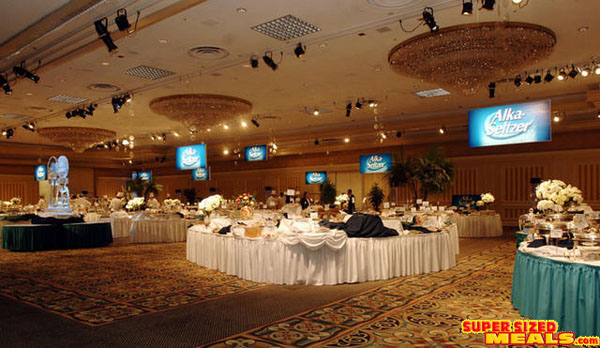 The Worlds Largest Buffet, almost ready for opening
The Worlds Largest Buffet twists and turns nearly 140 feet in one of the Las Vegas Hilton's premiere ballrooms
Las Vegas Hilton Executive Chef George Bargisen with the more than 20 chefs and sous chefs to create the buffet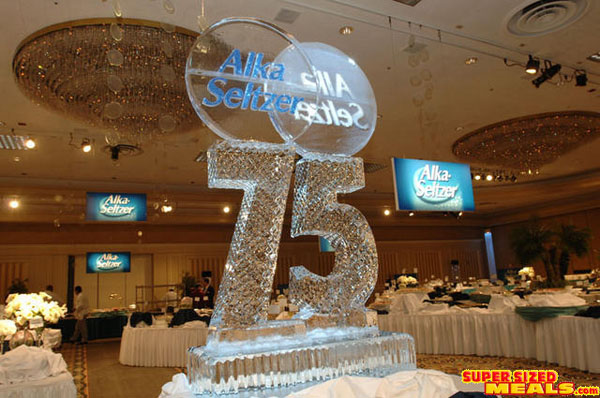 Alka Seltzer sponsored this event to celebrate their 75th anniversary
Kathy Griffin with the first taste of the worlds largest buffet
The chefs make their final preparations before opening the buffet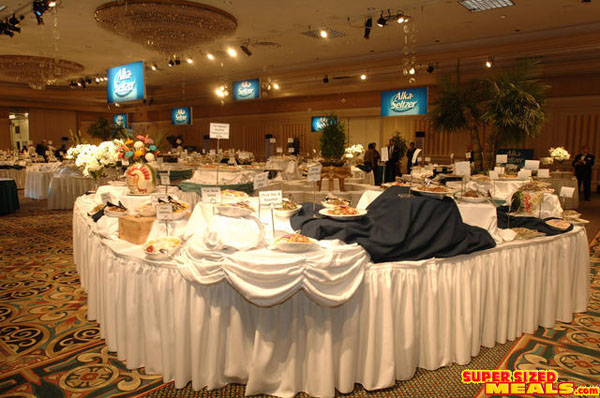 Some of the meals stayed under wraps before the opening
A fine looking dessert table!
The organisers of the event
Las Vegas Hilton Executive Chef George Bargisen with Kathy Griffin
Let the buffet begin!
The official certificate, awarding the Worlds Largest Buffet to Alka Seltzer and the Las Vegas Hilton
The crowd enters!

Alka Seltzer also sent out this press release about the event.

Alka-Seltzer Sets Guinness World Record™ for Largest Buffet To Celebrate 75th Anniversary

Comedian Kathy Griffin Took First Bite

Las Vegas, NV, March 28, 2006 – From french fries to fajitas…hundreds of Las Vegans helped Alka-Seltzer, the antacid known for its effervescent fast relief of indigestion and heartburn, celebrate its 75th anniversary by setting a "Guinness World Record" for the "World's Largest Buffet" with 510 items. The buffet was open to the public at the classic Las Vegas Hilton, where actress and comedian Kathy Griffin was on hand to host the event and take the first bite. The scene provided the perfect backdrop for Alka-Seltzer to celebrate its rich history of relief through 75 years of relieving generations of Americans from their most overindulgent moments.

"Guinness World Records is pleased to recognize Alka-Seltzer as a new member of our record-breaking family," said Nadine Causey, Guinness World Records. "We congratulate them on this remarkable achievement in setting the record for the Largest Buffet with 510 different items on March 28, 2006."

"I was so excited to host this event. I've certainly had many overindulgent moments of my own," said Kathy Griffin. "Alka-Seltzer is synonymous with relief and humor, two things I enjoy sharing with my audiences."

"Alka-Seltzer is one of the most iconic brands in American history, generating great nostalgic imagery which has kept the brand a mainstay of popular culture for 75 years," said Jay Kolpon, vice president, marketing and new business, Bayer Health Care's Consumer Care Division. "A brand with such tremendous heritage called for an anniversary celebration that is one for the record books."

Complete with dazzling ice sculptures, bubbling décor, effervescent columns and Alka-Seltzer relief stations, the "Guinness World Record" required a minimum of 500 distinct dishes and was presented throughout the 140-foot length of one of the Las Vegas Hilton's premiere ballrooms. Spread across more than 500 feet of combined table surface, culinary delights included BBQ style beef ribs, Mongolian chicken, salmon Wellington, cheese quesadillas, crispy buttermilk fried chicken, beef tenderloin tips braised in red wine, Tandoori chicken, soba noodle salad, chef carved Bourbon glazed ham, wood roasted chicken breast, tiramisu, New York style cheesecake and German chocolate cake. More than 20 chefs and sous chefs from the Hilton were on hand to prepare the food.

"Vegas is the ultimate city of overindulgence. We are known for our entertainment icons, 24-hour excitement and countless buffets," said Ken Ciancimino, executive vice president of the Las Vegas Hilton. "The Hilton has been home to many icons over the years, including Elvis Presley and currently Barry Manilow, so it's only fitting that we helped celebrate another iconic brand."

Providing relief on an additional level, Alka-Seltzer donated food and funds from the Las Vegas "World's Largest Buffet" to America's Second Harvest – The Nation's Food Bank Network, the nation's largest charitable hunger-relief organization. "The Bayer Consumer Care Division has been a valued contributor to our organization for many years. We are grateful that they thought of us again, during such a special anniversary year," said Robert Forney, president and CEO of America's Second Harvest.

Alka -Seltzer History

Alka-Seltzer was introduced by Miles Laboratories in 1931 and brought to market as a remedy for headaches and indigestion. Rooted in American popular culture, the brand is well known for its creative and memorable advertising campaigns in history, including "Speedy Alka-Seltzer" and the famous jingle "Plop, Plop, Fizz, Fizz". Other famous, award-winning campaigns include 1969's "Mama Mia, That's A Spicy Meatball, 1971's "Try It You'll Like It" and the 1972 spot "I Can't Believe I Ate the Whole Thing", which went on to become one of Newsweek magazine's 10 most memorable lines of the decade. In honor of the brand's 75th Anniversary, "I Can't Believe" was remade starring Doris Roberts and Peter Boyle of "Everybody Loves Raymond" fame.

About Alka -Seltzer 

For fast relief of heartburn, acid indigestion and pain turn to Alka-Seltzer, the fast acting relief that millions have relied on for 75 years. Alka-Seltzer gently breaks up and dissolves away the full feeling of indigestion, heartburn, and pain fast. Alka-Seltzer is now available in a wide variety of formulas and flavors including original and lemon-lime, as well as Alka-Seltzer Extra Strength for the most powerful relief, Alka-Seltzer for Heartburn Relief, Alka-Seltzer Morning Relief for hangover symptoms, Alka-Seltzer Gold for gentle relief and Alka-Seltzer PM for nighttime relief. When you experience acid indigestion, sour stomach, heartburn and pain trust Alka-Seltzer for relief of your symptoms. When you need fast relief, take Alka-Seltzer.

About Las Vegas Hilton

The Las Vegas Hilton ranks among the world's most famous and popular resort destinations, located blocks from the Las Vegas Strip and adjacent to the Las Vegas Convention Center, offering 3,000 luxurious rooms and suites situated on 59 acres. The property is one of the largest hotels in the world and features top-name entertainment, 14 distinctive restaurants, a full-service health club and spa, Star Trek: The Experience and much more.

Resorts International is an affiliate of Colony Capital LLC and is the only privately held gaming company licensed in four gaming jurisdictions: Indiana (Resorts East Chicago), Nevada (Las Vegas Hilton), New Jersey (Resorts Atlantic City, the Atlantic City Hilton), and Mississippi (Resorts Tunica and Bally's Tunica).
---
SupersizedMeals.com
http://www.supersizedmeals.com/food/article.php/20060405043129717