Bruegger's World's Largest Bagel
Sunday, April 23 2006 @ 01:51 am UTC
Contributed by: Billy
When I think of Bagels, I think of a nice, hot, fresh bagel with cream cheese... mmm... I think I'd need a small tip-truck of cream cheese for this one though....
From: http://www.brueggers.com/news/news-080405.html
Burlington, Vt. (August 4, 2005) - There are bagels, and there are bagels so big that they earn their place in history. Bruegger's Enterprises, Inc. recently received official notification from Guinness World Records that its attempt to bake the world's largest bagel has set the new world record.
[CONTINUED]
Bruegger's baked the record-breaking bagel at the New York State Fair in Syracuse, New York on Friday, August 27, 2004. Bruegger's oversized bagel officially weighed 868 pound, was six feet in diameter and nearly 20 inches thick. As a result, the achievement has been officially entered into the Guinness World Records database.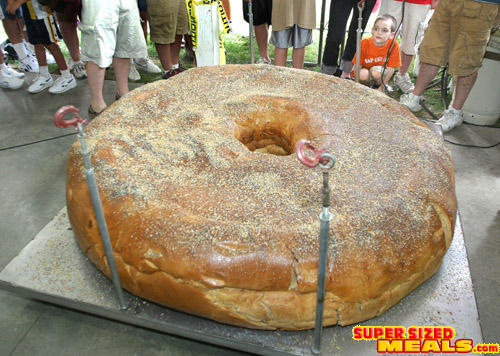 "Bruegger's is a company that's passionate about its bagels," said James Greco, chief executive officer, Bruegger's. "Baking an 868-pound bagel is a demonstration of that passion. Although our company's heritage is freshly baked bagels, we also offer our guests an array of healthy dining choices."
To create the colossal bagel, the Bruegger's team used massive amounts of typical bagel ingredients, including 660 pounds of flour, 348 pounds of water, one-half pound of yeast, 53 pounds of malt and 12 and one-half pounds of salt. It was boiled for 30 minutes and baked for nearly ten hours.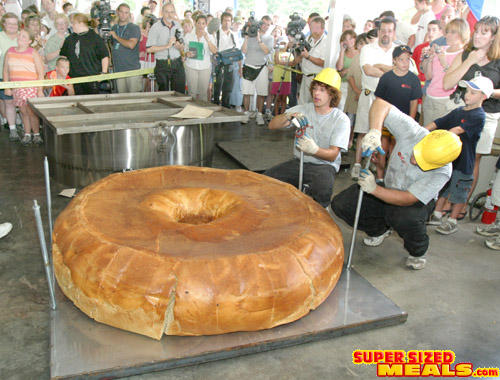 According to the production crew overseeing the baking efforts, the bagel is 4,000 times the size of a standard Bruegger's bagel. Company officials also noted that the bagel did not go to waste. The bagel was sliced and served to fair visitors who made donations that raised $2,447 for food banks in Syracuse, Rochester and Albany, New York.
About Bruegger's Enterprises, Inc.
Bruegger's Enterprises, Inc., an affiliate of Sun Capital Partners, Inc., is a leader in the quick, casual restaurant segment with 245 neighborhood bakery-cafes in 17 states. Bruegger's menu features a wide variety of authentic boiled and baked bagels, fresh-made salads, carb-friendly wraps, stone hearth breads, hearty soups, specialty and deli made sandwiches, desserts, unique coffee blends and original cream cheese in an assortment of flavors. Founded in 1983, Bruegger's is headquartered in Burlington, Vermont. For more information, please visit www.brueggers.com
Comments (0)
---
SupersizedMeals.com
http://www.supersizedmeals.com/food/article.php/20060423015145101