UK gets bigger Big Mac
Friday, May 05 2006 @ 04:01 pm UTC
Contributed by: Billy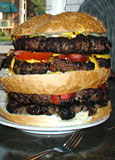 Originally from Slashfood, this article talke about how the UK is about to get a bigger Big Mac. The picture doesn't look too much like a Big Mac tho. Any of our UK readers care to comment? Any Maccas workers had one to try before they're released?
From: http://www.megastar.co.uk/world/news/2006/04/24/sMEG01MTE0NTg2NzAzNTE.html
MegaStar says: 'Food for thought? Nah, just bigger portions and bigger thighs.' Despite healthy eating being rammed down our throats at every turn, McDonald's have defied their critics and plan to launch the Bigger Big Mac!
Yep, bigger IS better, and after many lame attempts to offer customers healthy options such as salads and a "toasted deli sandwich", the company has decided to stick to what it's best at. Fattening people up.
"The new Big Mac, which will be launched in the UK for a limited period to coincide with the football World Cup this summer, will see the two beef patties of the burger made much thicker. It is also likely to be sold in Germany and Spain," the Independent reports.
McDonald's appears relaxed, despite a new book called Chew On This, by Eric Schlosser, due out next month.
Schlosser has updated his book, Fast Food Nation, to appeal to children and young teenagers, and asks them to question why they're eating fast food.
There is also a Hollywood film on the horizon, starring Patricia Arquette and Ethan Hawke, as fast-food workers who uncover some unsavoury truths about the burger business.
In the UK, 25 restaurants have closed down, but that hasn't stopped the company spending £140m on refurbishing some of its outlets.
It seems they might have wised-up to the fact that no one wants to tuck into a healthy salad when the place stinks of fried food and ketchup, so they plan to update their furniture and lighting in a few trial restaurants.
Presumably, they'll be low-lit, so it's harder to spot the person tucking into an even bigger Mac, sitting across from you.
---
SupersizedMeals.com
http://www.supersizedmeals.com/food/article.php/20060505160103343