5lb Burger Challenge, J.R. Hohlier Sports Pub, IN
Wednesday, June 28 2006 @ 08:06 PM EDT
Contributed by: Billy
A few of the HoosierGazette.com staff were up for the challenge. Could they finish a 5lb burger in 30 minutes? The prize? $100 and their picture on the wall of fame!
From: http://www.hoosiergazette.com/Feature/feature019.htm
Three members of the HoosierGazette.com staff decided to test their physical and mental endurance in Indianapolis Saturday by attempting to become the first to finish the J.R. Hohlier's Sports Pub's Five Pound Hamburger Challenge in front of several hundred of the newspaper's fans.
[CONTINUIED]
5 Pound Hamburger Challenge proves too much for Hoosier Gazette staff
By Steve Redman, THG Features
Editor Josh Whicker, Webmaster Chris Kasinger, and writer John Andrews met at 4 pm March 13 to undertake one of the toughest competitive eating challenges in the United States: eat Hohlier's five pound hamburger (dressed with lettuce and tomatoes) in 30 minutes without leaving the table. Anyone who finishes the challenge gets their picture in the Hohlier's Hall of Fame and $100.
While waiting for their burgers to be prepared, the THG staff got to see first hand what they were up against. A Greenwood High School student was already eating the Five Pounder when they arrived, and was having little success. The burger and bun were so huge that after 30 minutes of continuous eating, only half the meat was gone and the entire bun remained. When Gina, the manager of Hohlier's, called for time, the teenager hacked up a mouthful of chewed beef.

Josh, Chris, and John from HoosierGazette.com with Hohlier Challenge emcee Donnie Green (second from left)
Undaunted by the Greenwood lad's struggles, Whicker, Kasinger, and Andrews accepted the challenge. After a half-hour wait (the time it takes to prepare such a large quantity of meat), the stage was set for one of the most colossal eating exhibitions the state has ever seen. As soon as the event's emcee, Donnie Green, started the timer, all three contestants attacked their burgers like a pack of ravenous wolves.
It was immediately evident why bookmakers had the 6' 3", 350 lb Whicker as a 2-1 shot to finish the Five Pounder prior to the competition. His only game plan was to inflict "complete and total eating destruction" on the burger and his competition. Within eight minutes, Whicker had eaten the whole top portion of the bun, which was the size of a medium pizza.
Kasinger and Andrews used very different eating methods when taking on the Hohlier's Challenge. Kasinger employed a cave-man like strategy, using his hands instead of utensils and gulping water as if he were drinking from a trough. Andrews was the epitome of class, using his fork and knife as precision instruments as he carefully but quickly devoured the pile of steaming meat. "There is no substitute for good manners, regardless of activity or venue," stated Andrews.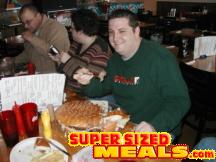 After 15 minutes, it became apparent to Kasinger that there was no way in hell he was going to complete the challenge with well over half of the hamburger still on his plate and a stomach that already felt stretched to its limits. Instead of making himself more miserable, he dropped out of the competition and went to the bar to smoke a cigarette. Andrews followed suit soon after, happy to finish in second place over his rival Kasinger, who has a 70 pound weight advantage. "I was very surprised to beat Chris. He is a great competitor who just had a bad day. I feel very lucky to place where I did today."
With 10 minutes left in the challenge, the crowd became excited as Whicker continued to keep up an incredible pace and looked as if he would be the first winner of the Hohlier's Challenge. Then with three minutes left, the Hoosier Gazette editor hit the wall. With less than a pound of beef and part of the bun remaining, Whicker threw in the towel. "If I would have eaten another bite, I would have exploded," said Whicker.
Despite his sadness of not winning the $100, which would have been used to help send his Godparents' daughter to Germany on a choir trip, Whicker could still find solace in knowing he came closer to finishing the Five Pounder than anyone in the five-week history of the event. "I am disappointed, but it was fun to get out and meet some of our fans," said Whicker.
Loyal HoosierGazette.com fans Shane & Emily

When asked if he would try the Hohlier Challenge again, the 29 year-old Whicker gave a definitive "No way, Jose!" He plans on retiring from competitive eating to concentrate on writing screenplays.

Who's ready for some icecream?
Comments (0)
---
SupersizedMeals.com
http://www.supersizedmeals.com/food/article.php/20060628200617102