The Worlds Largest Birthday Cake
Monday, October 09 2006 @ 01:03 am UTC
Contributed by: Billy
When Las Vegas celebrates, they do it big. And back in 2005, when they were celebrating their centenary, they created a birthday cake, a BIG birthday cake. In fact, the worlds largest! 30,000 half-sheet cakes and nearly 40,000 pounds of frosting later, they had the worlds largest birthday cake!
From: http://www.lasvegas2005.org/news/scrapbook/cake/
We had our cake, and we ate it too! What's a Centennial Birthday party without cake? Whatever the answer, no one in Las Vegas wanted to risk it. So during the early hours of the morning on May 15, 2005, eight semi-trucks from North Carolina drove into the loading zone at Cashman Center hauling 30,000 half-sheet cakes and nearly 40,000 pounds of frosting. Volunteers were already gathering nearby to start the process of unloading, unpacking, stacking, and ultimately frosting.
[CONTINUED]
Over the next 14 hours, more than 1,000 volunteers built a whopping 130,000-pound pastry from ingredients donated by Sara Lee. They worked under the direction of Sara Lee Executive Chef Brian Averna and the watchful eye of Sara Lee Foods President John Flood.
Las Vegas' birthday cake is registered in the Guinness Book of World Records replacing a record set in Fort Wayne, Ala. The Vegas cake outweighed the Alabama confection by 128,360 pounds.
In order to qualify for a Guinness record, the world's largest cake must:
• contain traditional ingredients in the correct proportions;
• be prepared in the same manner as a normal-sized cake;
• be prepared according to appropriate hygiene standards;
• be totally edible and safe to eat.
And while the final product is built from separately baked sheet cakes, they must be iced all over so that no joint can be seen, and so that the cake looks like a scaled-up version of a normal-sized cake.
In Las Vegas, a beautifully decorated layer cake nearly always attracts "cheesecake."

Mayor Oscar B. Goodman and Nevada's Lieutenant Governor Lorraine Hunt find themselves in a shower of confetti, let loose to announce the cake's completion.

Volunteers removed 30,000 sheet cakes from their shipping boxes.

Each cake is frosted before stacking.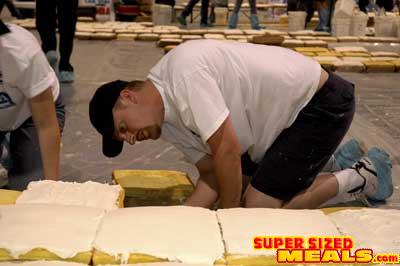 Frosted cakes are stacked seven layers deep.

Volunteers frost the top of the cake and apply the decoration.

Mayor Oscar B. Goodman high fives Mayor Pro Tem Gary Reese after setting the last piece of cake in place. Sara Lee Chef Brian Averna (in chef's cap) tries to give instructions during the melee.

Too hungry to wait for forks, Mayor Oscar B. Goodman (r.) and Sara Lee President John Flood (l.) bite into the World's Largest Birthday Cake.

After the cake was cut, guests took away pieces as big as they could carry.

The Worlds Largest Birthday Cake
Comments (0)
---
SupersizedMeals.com
http://www.supersizedmeals.com/food/article.php/20061009-Worlds_Largest_Birthday_Cake