Pat Bertoletti smashes "The Sasquatch" 4lb Burger Challenge
Monday, February 12 2007 @ 06:46 pm UTC
Contributed by: Billy
[via EatFeats] Pat Bertoletti does it again! This time it's the 4lb (of meat, 7lb totat!) "Sasquatch" Burger at the Big Foot Lodge, Memphis, TN. Apparently no one had successfully completed the challenge before, that is until now. We've written about the Sasquatch before, and now we've got pics of the sole successful finisher! Not only did he finish the burger in only 11.5 minutes, the next day he set the house record at the Acme Oyster House by finishing 53.5 dozen (!) oysters! I wonder if Pat will try and finish The Yeti... :)
From: http://memphisflyer.com/memphis/Content?oid=oid%3A23262
When Big Foot Lodge opened in 2005, it presented its customers with an unusual challenge: finish the four-pound Sasquatch burger in less than an hour and get the $19.99 cost back and your picture on the restaurant's hall of fame. On January 2nd, after 679 attempts, someone did it. Patrick Bertoletti of Chicago finished the burger in 11 minutes and 5 seconds. Bertoletti, who's ranked number three in the International Federation of Competative Eaters, set a record the following day in Louisiana by eating 53.5 dozen (!) oysters at the Acme Oyster House in Metarie.
[CONTINUED]
Pat Bertoletti outside the Big Foot Lodge

Pat sized up "The Sasquatch"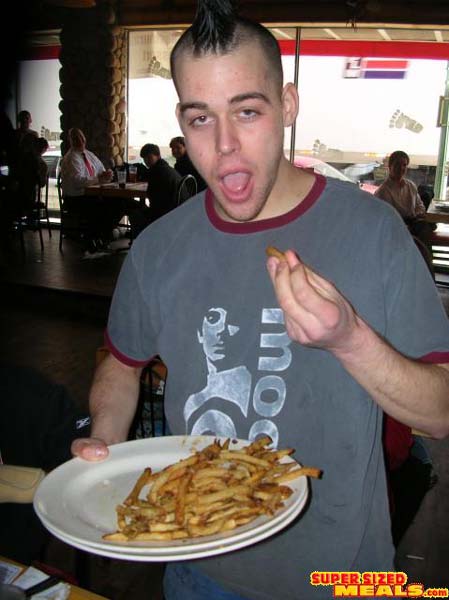 Burger is done, now the fries...

Pat prepares for the Oyster Challenge

Preparing for the challenge

Pat starts on the Oysters

That's a lot of Oysters!

Pat with some of the Acme Staff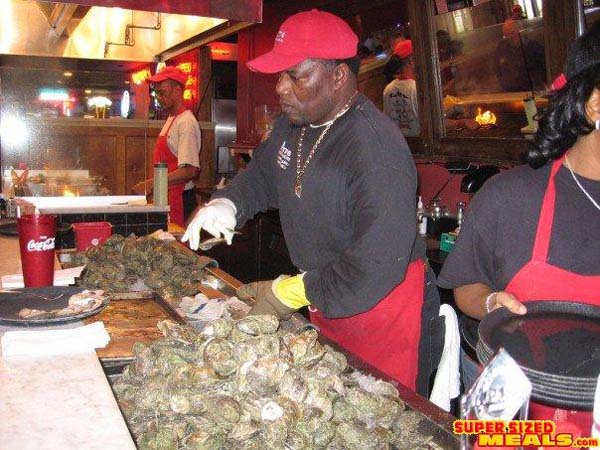 Sam the Man
---
SupersizedMeals.com
http://www.supersizedmeals.com/food/article.php/20070212-Pat_Bertoletti_kills_Sasquatch