Skinnyboy and the IHOP Pancake Challenge Part 2
Monday, March 05 2007 @ 06:55 pm UTC
Contributed by: Billy
Skinnyboy has done it again. Not satisfied with eating just 28 pancakes at his last IHOP adventure, he wanted to try again and beat his old record. Armed with an appetite for pancakes and some fine SupersizedMeals.com Merchandise (Read: PLEASE BUY SOME!), here's his second attempt to put his local IHOP out of business!
From: http://dogsarefunyes.blogspot.com/2007/02/ihop-part-deux.html
Last night, IHOP again for more pancakes. I had a specific number in mind going in to it, but this photo of me with my head in my hand shows how it went:
[CONTINUED]
Not that everything didn't start out well...
The four. T, Mommy T, Guapo, me.
Guapo, you're going down bee-otch! He hung tough, though.
Here, it's hard to see how dry the cakes were. It was kind of weird really.
They're drenched in syrup but they still almost crumble when cutting them. And added to that, I had them come plated to me in stacks of 5. I should have gone with how they normally come - in stacks of 3. It's mentally easier I now know to go through 3 per than 5 per. Our waitress was great! When I was done with a plate, she was right there with a fresh plate of steaming cakes! So that was refreshing after the between-plate-waits of last time.
Working on them. If you know me, you have got to know what's next...
Yeah that's real grown up. But they were delicious!
So I ate and ate and ate. Maybe I wanted to go to Casa Bonita a little more than I thought. But I let you all choose. IHOP it was. But it was good, no doubt! And finally meeting the mysterious Guapo Ribinowitz was a treat!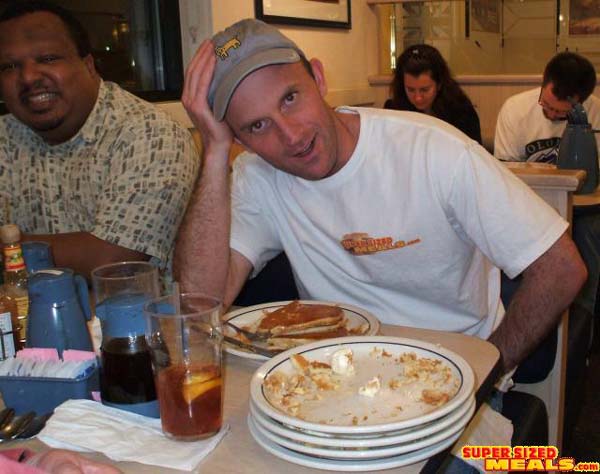 I'm done. 4 plates done. So 20. And then over half, but not quite three-quarters, of the other plate. We scored it 3.5 of that plate of 5. Total: 23.5 pancakes. Dang. And the before weight minus the after weight: 6.5 pounds.
Here's the pancake info again. Keep in mind this is per pancake, before the syrup and butter is added:
Comments (0)
---
SupersizedMeals.com
http://www.supersizedmeals.com/food/article.php/20070306-Skinnyboy_IHOP_AYCE_Pancakes