60 burgers in one sitting for "Healthy" teens
Sunday, May 13 2007 @ 02:08 pm UTC
Contributed by: Billy
Australian schools have been trying to combat the obesity "epedemic" by changing tuck shop/canteen menus to offer more healthy alternatives. Unfortunately, kids will be kids, and if you take away burgers from schools, they'll just go down the road and get them instead. So much so that these kids downed 60 burgers in one sitting at their local McDonalds. Apparently local shops near schools are selling record amounts of junk food, and kids are selling soft drinks from their back packs! hahah
From: http://www.news.com.au/sundaymail/story/0,,21715148-952,00.html
Robyn Ironside
MONTHS after state schools were ordered to dump junk food from their menus, most are still serving pizza, hot dogs, ice-cream and other processed foods. The Government introduced the "traffic light system" in its Smart Choices program to tackle childhood obesity on January 1, but half of schools have failed to get the balance right. Pizzas and hot dogs were labelled under the system as "amber" foods – to be served only occasionally – but Queensland Association of School Tuckshops spokeswoman Chris Ogden said schools were lagging.
[CONTINUED]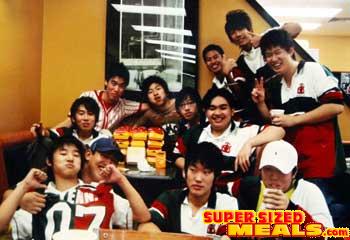 "A few have gone all 'green', but it is much easier to stick a tray of sausage rolls in the oven than make up salad rolls and wraps, that sort of thing," she said. "We can buy in pre-chopped lettuce and carrot but they come at a premium price."
Under the laws, foods are divided into "green" or healthy choices like salads, and "amber" or processed foods including low-fat pies, hot dogs and pizza.
"Red" choices are limited to twice a term, which has made staging sausage sizzle fundraisers a nightmare at some schools.
A random survey of more than 100 primary school menus by The Courier-Mail showed very few indicated which choices were amber, green or red.
Of the eight menus which were colour-coded, 45 per cent of the offerings were either amber or red.
Eagleby South State School, in Logan, even offered daily "meal deals" such as a dagwood dog, juice and packet of chips for $2.70 and a pie, juice, Paddle Pop and packet of chips for $4.
Ms Ogden said although many schools tried hard, it was impossible to stop students from buying restricted foods outside the school grounds.
"There's a fast food outlet near every school, whether it's a service station, a supermarket or a KFC or McDonald's," she said.
Responding to reports MacGregor State High School students had eaten 60 McDonald's burgers in one sitting, an Education Queensland spokesman said the students had not been on their lunch break and had had permission from their parents to leave the school.
Quality Food Services, which distributes food to about 800 school tuckshops, said pie sales had dropped under the Smart Choices guidelines because the new low-fat, low-salt varieties were relatively bland.
Spokesman Glen Bound said tuckshops could not compete with local shops offering junk food. "It's a big problem at Runcorn State High, where the shop around the corner has changed its menu to suit the students. Their business has gone through the roof," he said.
He had heard of students at other schools having pizzas delivered to the fence, and an enterprising student who took a backpack full of soft drink to school to sell to classmates.
Additional reporting Melanie Christiansen
Comments (0)
---
SupersizedMeals.com
http://www.supersizedmeals.com/food/article.php/20070513-60_Burgers_in_one_Sitting