Joey "The Jaws" Chestnut new WR, 66 HDB's in 12 minutes!
Wednesday, July 04 2007 @ 03:57 pm UTC
Contributed by: Billy
Amazing stuff at this years Nathan's Famous Hot Dog Eating Championship. Local hero (and SupersizedMeals star) Joey "The Jaws" Chestnut won the competition by eating 66 HDB's (Hot Dogs w/ buns), beating Takeru Kobayashi's 63. Joey is now the World Record Holder for the most HDB's consumed in a 12 minute timeframe. Congratulations Joey!!!
From: http://www.news.com.au/story/0,23599,22021000-2,00.html
AN American competitive eater has devoured a record 66 hotdogs in 12 minutes to win the July 4 annual Coney Island hotdog eating competition in New York City, defeating a six-time champion from Japan in a photo finish.
[CONTINUED]
Joey Chestnut gets down to business (Source: AP)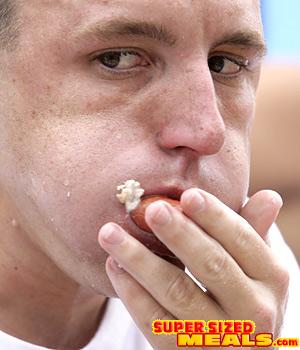 Joey check on Kobayashi (Source: AP)

Joey looks a bit uncomfortable (Source: AP)

A crowd of 50,000 gathers to watch the event (Source: AP)

Kobayashi's "Reversal" stirs controversy (Source: AP)

Joey wins with 66 HDB's (Source: AP)

Joey "The Jaws" Chestnut, winner, Nathan's Famous Hot Dog Eating Championship 2007

From: http://www.news.com.au/story/0,23599,22021000-2,00.html

Defending champ Takeru Kobayashi, a 28-year-old from Japan who weighed in at 77kg, entered the competition with a jaw injury but still managed to down 63 hotdogs.

But the winner of the "Mustard Belt'' prize for the most hotdogs eaten was 23-year-old Joey Chestnut from San Jose, California, who weighed in at 102kg.

Chestnut fulfilled his vow to beat the world record he set in qualifying earlier this year of 59.5 dogs, and to bring back the prize to America on Independence Day.

"Reversal of fortune"
The two were neck and neck in the final minute until Kobayashi appeared to suffer what the commentator on sports TV channel ESPN euphemistically called a "reversal of fortune'' - or vomiting.

Judges reviewed the debris of plates and scraps and declared Chestnut the winner with 66. The third place eater trailed way behind with 49.

"For the past six years Kobayashi has dominated. In year seven he just couldn't cut it,'' Chestnut said.

"It just feels awesome. For a long time the belt has been going away to Japan, but this year it's staying here.''

Popular pastime
Competitive eating is a popular pastime in America, particularly at holidays.

The hotdog eating event is the highlight of July 4 Independence Day celebrations at Coney Island beach in New York.

Eaters tend to dunk the bread in water to make swallowing easier and eschew condiments such as ketchup or mustard.

Kobayashi said all the eaters were getting better every year.

"I lost but this was the most fun I had,'' he said.

"I didn't feel pain, but my jaw wasn't moving part way through,'' he said of his injury.

Police said as many as 50,000 spectators watched the event, which drew 17 competitors, including two women.

The United States has the highest prevalence of obesity among developed countries, with about 60 million obese adults, according to the US Centre for Disease Control and Prevention.
---
SupersizedMeals.com
http://www.supersizedmeals.com/food/article.php/20070704-Joey_Chestnut_66_HDBs_12_mins