The Creme Egg Challenge, 10 eggs in 10 minutes
Wednesday, July 18 2007 @ 02:15 pm UTC
Contributed by: Billy
How many Creme Eggs can you do? Way back in 1993 the challenge was set. 8 Creme Eggs in 10 minutes. Since that time no one had beaten the record, that is until now. "Mr Pantson" (name changed for Internet anonymity) was attempting to make Creme Egg History. Could he down 10 Creme Eggs in 10 minutes or less?
From: http://www.joeldown.org/oldjod/000254.php
I know when I'm beat. After setting a record of eight Creme Eggs in eight minutes back in 1993, nobody has risen to my challenge of ten eggs in ten minutes. Until now. Step forward Mr Pantson*, glutton extraordinaire, who's set new standards in competitive chocolate eating. I think it was harder than he expected, as these pictures prove, but he should stand proud. Key plays in the game highlighted below.
[CONTINUED]
"It's only ten eggs": cocky

I get very excited whilst Mrs Pantson taunts with Granola bar

The challenge is underway, at astonishing speed

Onto the fifth egg in three and a half minutes

But with the sixth egg, the sweats begin

And the pace has slowed considerably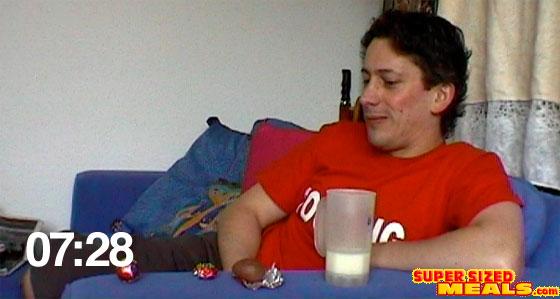 Two eggs to finish in two-and-a-half minutes. Can it be done?

Half a minute left. Looking sickly

Seconds after the final gulp: finished with five seconds to spare

Mrs Pantson offers a celebratory chocolate

Seriously, a significant, 1740 calorie, 62g of fat achievement.

*Name changed for internet anonymity
---
SupersizedMeals.com
http://www.supersizedmeals.com/food/article.php/20070718-Creme_Egg_Challenge