The McNugget McBurger McPizza
Thursday, October 25 2007 @ 02:12 pm UTC
Contributed by: Billy
Just like the Aussie Hangover Cure, these guys took a few McBurgers and Fries, and added to the recipe! New, improved, McNugget McBurger McPizza! (with fries of course!)
From: http://www.forocoches.com/foro/showthread.php?t=758795
[Google Translated] One of the most curious mixtures of food I have ever seen. If you like pizza, hamburger, "nuggets" of chicken, mozarella cheese, french fries and barbecue sauce, this is your chance to try something different.
[CONTINUED]
It coje pizza and add tomato and barbecue sauce to taste and then put the burgers on top of bread with your hamburger and everything ...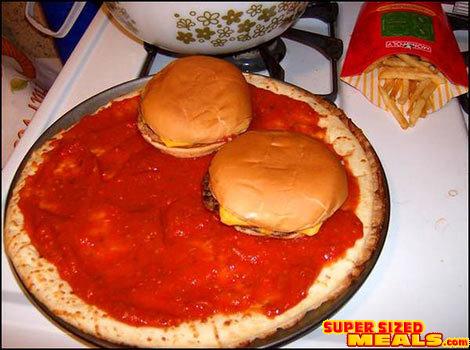 Add chips and the "nuggets" of chicken where we quepen ...
Cover everything with mozarella cheese or cheese that you like. In this step you could add ham and Bacon above I say ... Lost in the river ....
What mete baked as a normal Pizza is made up entirely "et voila" ready par eat.
Frankly apparently the result is brilliant and should be very rich. That if, calories and fats is porrillo ...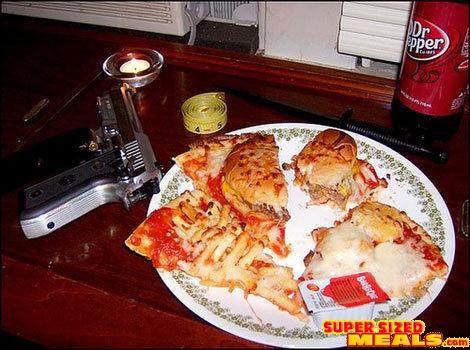 PD: No painting gun and knife on the table and the tape measure. Are the weapons if you are entering a depression when measured perimeter tripero with the tape measure?
Comments (0)
---
SupersizedMeals.com
http://www.supersizedmeals.com/food/article.php/20071025-McNugget_McBurger_McPizza