The Skull Birthday Cake
Monday, October 29 2007 @ 02:02 pm UTC
Contributed by: Billy
Being Halloween and all, this guy decided to make a themed birthday cake. It's a skull, with all the blood-filled trimmings. Cut the cake, and watch the blood come out. Would you eat that cake?
From: http://global-dream.blogspot.com/2007/10/would-you-eat-this-cake.html
Happy birthday, creepy guy!
[CONTINUED]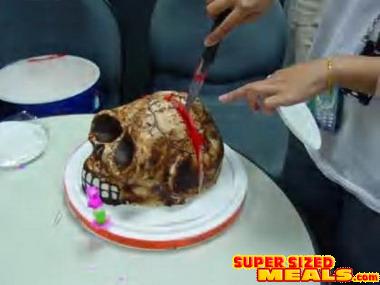 The Skull Birthday Cake

Slicing open the Skull Birthday Cake

Brains!!!
---
SupersizedMeals.com
http://www.supersizedmeals.com/food/article.php/20071029-Skull_Birthday_Cake