List of Pigs over 1000lb's
Sunday, March 16 2008 @ 01:02 pm UTC
Contributed by: Billy
I love teh Internets. Seriously, where else would you find a list of pigs that weigh over 1000 pounds? Apparently it's quite common! With names like "Hogzilla", "Monster Pig", "Hog Kong", and "Ton Pig", these tasty treats topple the scales naturally and unnaturally. Some wild, some farmed, either way, they'd take one heck of a spit roaster to cook em up!
From: http://en.wikipedia.org/wiki/List_of_pigs_over_1000_pounds#Large_pigs
Monster Pig is the name of a large hog killed on May 3, 2007, by an eleven year-old boy, Jamison Stone in a 150-acre (0.61 km²) low fence enclosure within the larger 2,500 acre (10 km²) commercial hunting preserve called Lost Creek Plantation, outside Anniston, Alabama. According to the hunters (there were no independent witnesses) the pig weighed 1,051 lb (477 kg). Claims of the authenticity and allegations of the kill being a canned hunt have disputed the claim.
[CONTINUED]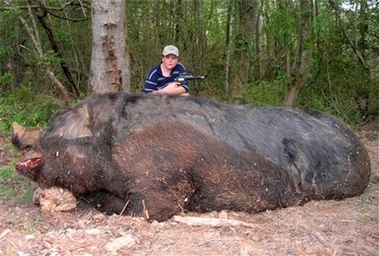 Hog Kong
Hog Kong was an estimated 1,140 lb (517 kg) wild hog killed in August 2004 by Larry Earley at his 22-acre farm near Leesburg, Florida, using a Smith & Wesson Model 29.
Ton Pig
Ton Pig was a domestic hog from China owned by Xu Changjin that weighed in at 1,980 lb. (900 kg.).[11] Ton died from lack of mobility due to obesity on February 4, 2004. It was sent to the Liaoning Agriculture Museum in Shenyang, for display.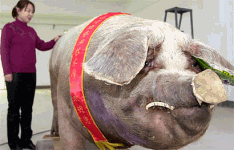 Read more here: http://en.wikipedia.org/wiki/List_of_pigs_over_1000_pounds
---
SupersizedMeals.com
http://www.supersizedmeals.com/food/article.php/20080316-List_of_Pigs_over_1000lbs