The Super Triple Bacon Deluxe Burger
Sunday, August 10 2008 @ 01:10 PM EDT
Contributed by: Billy
The third and possibly the last in Griffin's Supersized Burger adventures, the Super Triple Bacon Deluxe is a sight to behold! Consisting of 6kg's of mince, 1kg Bacon, 1kg Cheese, and a whole lot of the usual trimmings, this burger is a heartstopper, literally!
From: http://www.otca.com.au/burger3.html
The third and possibly final giant burger in this project would be based on a Hungry Jacks' Bacon Deluxe Burger, with three layers of meat instead of two in the real burger, plus extra sauces.

[CONTINUED]
To see what a real Bacon Deluxe Burger looks like, go to the Hungry Jacks Website.
This is what one I bought looks like, for comparisson.
And cut open.
Actual Bacon Deluxe Burger ingredients - Bread (with sesame seeds), meat, cheese, bacon, tomato, lettuce, mayonnaise. My Giant Burger would have mustard and tomato ketchup added, and some (sweet chilli marinade) flavouring to the meat, but everything else would be the same. Even the sesame seeds.
I bought 2 damper rolls from Woolworths this time. I was thinking that if I cut the top off one thick and the bottom off the other thick, I could use the two thick halves for the Giant Burger, to help offset the larger amount of fillings. I ended up using the two bottom halves instead, just because there was way too much flour on the top of both rolls to use on the burger.
The shopping list:
Woolworths - 2x Damper rolls. $6
Coles Garden City - Ketchup, Mustard, Sweet Chilli Sauce, 1kg Bacon, 1kg Cheese. $43.22
Coles Sunnybank - Onions, Lettuce, Tomatoes, Mayonnaise, Sweet Chilli Marinade. $11.74
Fine Freddy's Meats - 6kg Mince. $33.40
On hand - Sesame Seeds. (minimal cost)
Total cost of ingredients - $94.36

Construction.
I was in a bit of a rush to make this burger to get it done before going to work, so didn't take as many photos as I was wanting to. But you still get the general idea.
I first cut the two damper rolls in halves, and toasted the two bottom halves. Before toasting one, I wet the top of it and sprinkled sesames seeds on it so that they would stick when toasted in the frypan (with lid closed). I then cooked the bacon, and chopped up the tomatoes and onions.
First, a layer of bacon, cheese and sauces.
The meat was divided into three parts. Each part had the sweet Chilli sauce or marinade mixed in, before shaped into a giant patty and cooked in the frying pan. With the lid closed, it was able to cook through most of the meat, but each one was still turned over to cook the other side as well to make sure. (one patty was still a little pink though, in the rush of getting it done - I must have checked a cooked part and thought it was ready)
The first layer of meat, with onion, bacon, tomato, cheese, and sauces. I wanted as much stuff in between the layers as possible this time, to break up the meat.
The second layer of meat.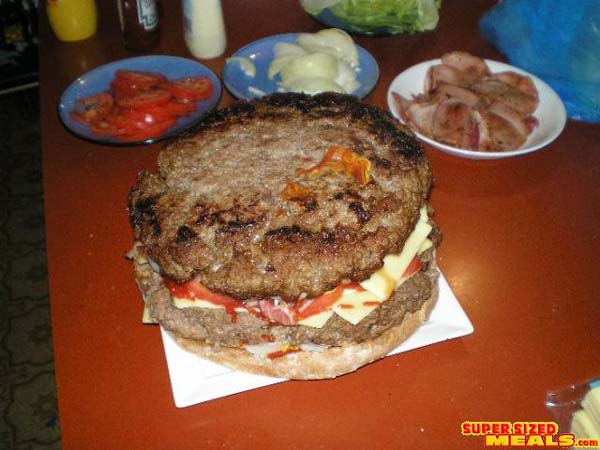 Unfortunately this was where I started rushing to finish the burger, and forgot to take any more photos of it's construction.
I added the third layer of meat, with heaps of bacon, cheese and sauce between each layer of meat. Then I added more tomato, sauces and mayo on top, and covered it over with some lettuce leaves. It was about as high as it could go, otherwise bits just kept falling off. The top of the 'bun' was then added, and it was done. A little over 3 hours after starting.
This is the completed Burger, with my trusty sidekick Optimus Prime measuring it for me. It measured 26cm tall.
And a photo of it on the scales, to show its weight. The plate the burger is on is about 800gm, so the total weight of the burger is probably a little over 8.5kgs.
I stuck four wooden chopsticks into the burger to hold it together, and then wrapped the entire thing in plastic food wrap so that I could take it to work. When I got there, it certainly drew the attention of my fellow workers. And at the lunch break, when it was unwrapped, heaps of people crowded around to take photos of it.
I managed to get 5 people to help eat it, and take away some home with them, leaving me with under a quarter left to take back home. At least I didn't have to eat it all myself, and more importantly, it livened the day for many at work, just seeing the monstrocity.
Getting so close to the 10kg mark makes it very tempting to try doing another one just to reach that weight. But it won't be something I will do any time soon, and I would need an event or party to make it for, as it would just be too big for me to have to consume on my own.
But until then, this is probably as far as my Giant Burger Project will go. I have been successful in creating a giant, edible burger, and had a large crowd witness one the existence of the third one. It has been fun, for me, and for those who saw or ate some of it.
As for a really big burger, like 20-50kgs, it's still too impractical for me to do in the foreseable future, but still something that should be fun to try. One day.
---
SupersizedMeals.com
http://www.supersizedmeals.com/food/article.php/20080810-Super_Triple_Bacon_Deluxe