Torta Gigante! Portland, OR
Tuesday, April 07 2009 @ 01:12 pm UTC
Contributed by: extramsg
Went last night to my favorite torta truck in Portland, La Catrina, and got some pics. Here's a mixed torta -- pastor and carnitas -- with a little dripping avocado and chile de arbol salsas. This is their torta chica -- small sandwich at less than 6 bucks:

From: http://www.extramsg.com/modules.php?set_albumName=album481&.....
[CONTINUED]
And here's their raison d'etre, the cubana. I decided that if I was going to get it, I might as well go for the full monty and order the grande at 10 bucks. Alas, I could only take 7 of its 14 inches. Food porn follows, including a messy series of money shots at the end, of course.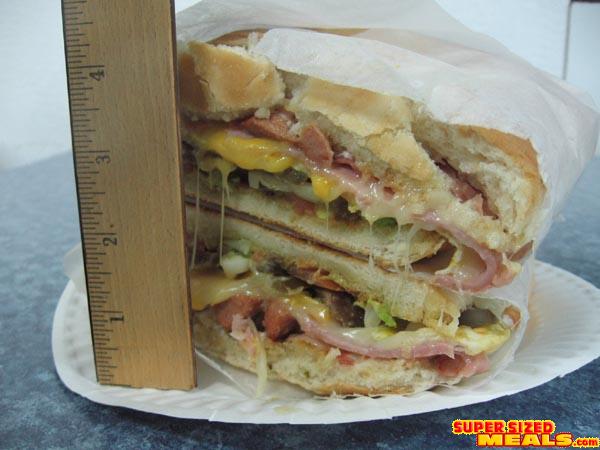 As a reminder, there's hot dog, head cheese, breaded pork cutlet, two types of cheese, ham, lettuce, tomato, avocado, sour cream, salsa, and fried egg in there.


Who says more than a handfull is a waste?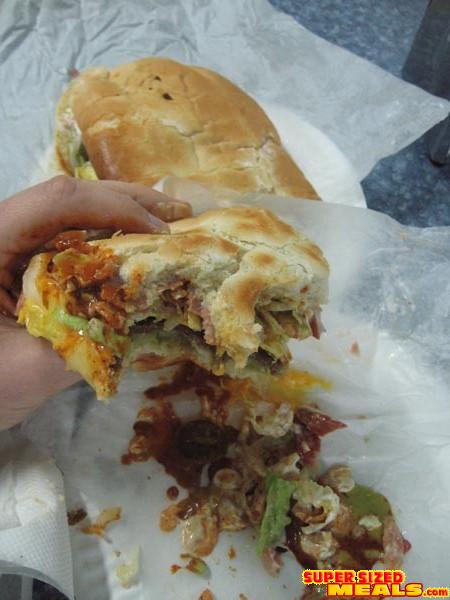 Oops, that mess is a bit premature.



There we go. Now it's time for a nap.

More pics here.
Comments (0)
---
SupersizedMeals.com
http://www.supersizedmeals.com/food/article.php/20090226142458932