Happy Pancake Day - Fool's Gold Stack
Tuesday, March 10 2009 @ 01:12 PM EDT
Contributed by: Billy
We've all heard of the Fool's Gold Loaf (one of Elvis' favorite late night snacks), but have you heard of the Fool's Gold Pancake? Billy over at A Table for Two last month did exactly that! He took a bunch of pancakes, then added peanut butter, bacon, repeat. The resulting snack is one mighty fine tower of tastiness! And all advertising proceeds for February went to Uniting Care, a local charity (maybe March referrers from SupersizedMeals could to? ;))
From: http://atablefortwo.shisso.org/?p=1936
I just woke up, switched on the TV and there she is, Fifi Box is already helping out at the UnitingCare tent, selling pancakes and eating them. It is Pancake Day! Here I have lay out and took a quick snap of all the ingredients that I will be using to make my pancakes today - flour, butter, lemon, eggs, maple syrup, peanut butter and bacon! Oh yeahhh… pancakes with peanut butter and bacon… I think I need to remind myself how good this is going to taste like the sister version I've had recently at Parkes.

[CONTINUED]
I've had my morning walk, consider that as my pre-indulgence exercise, but all I could think of during the exercise is how to construct my pancakes. I actually even had a Oak chocolate milkshake on my way home, consider that as a protein shake to build muscle too!
I quickly drafted out a deconstructed version of the pancakes that I am going to make. And I think I have finally got it right. And I am going to call it the "Fool's Gold Stack", a sister version of the Fool's Gold Loaf. So next time when people ask you whether you have tried the Fool's Gold Stack, yes tell them that Billy who invented it! :P
Thanks to those who is visiting the blog right now and also the link ups from ChocolateSuze and Onebitemore. Go and check out their versions of blueberries pancakes, always perfect banana caramel syrup pancakes, and oh, a gingy pancake!
Entertainment and stuff myself silly aside, this crazy act is all for a good cause. Here's a ho down how a small amount of money can help those unfortunate ones. I am not a saint, I am far from it as a matter of a fact, I think we all do take things for granted now and again, and it makes me feel good to give something back.
Like I said, your money won't do me no good, all I need is you to spread the words and send more traffics to this blog, and that's how I can raise the funds for the charity. But of course, you are always welcome to donate at the UnitingCare website itself.
Now, I only realised I am still missing a few ingredients to make the fluffy pancakes! Off to supermarket now, and the glorious pancakes should be up by lunch time!
Apology for slow updates, i just regain my consciousness, I think I had slipped into coma, went into space with David Bowie for a second there.
I've made 13 pancakes, and it took me 30mins to cook them. The size, as you can see, no monkey business, all at the size around 15cm in diametere. I followed onemorebite's recipe to a tee except the ricotta, it sure is a "always perfect" recipe, the pancakes come out light and fluffy.
BEHOLD!!!!!!!! The glorified Fool's Gold Stack!!!
The fool's gold stacks is constructed with 9 pancakes + 300 gram Bacon + 150 gram peanut butter!
My heart just skipped a bit just by looking these images again. The CSR golden syrup is rather sickening sweet, which I ended up not using it much except the few drizzle while taking the photos. Eating it was just as challenging as making them, and I definitely worked up a sweat and feeling rather dizzy.
I think is best for me to lie down for a second, most updates and recipes to follow.
Also, go and check out the chocolate pancakes at Here comes the food!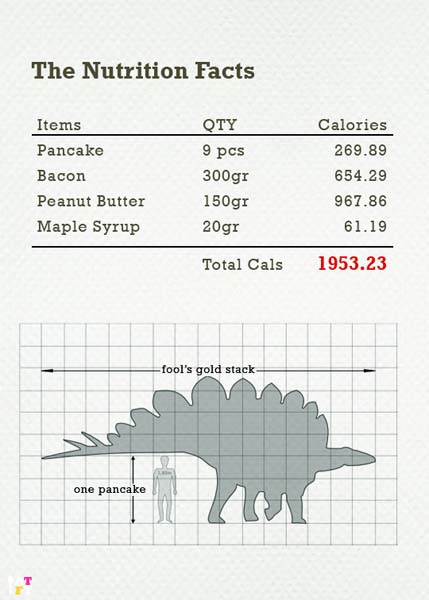 Well let's put the pancake stacks into numbers, shall we? (probably not a good idea, but what the heck!)
So according to the chart above, the fool's gold stack will consists of a whopping 1953.23 calories! (Next biggest loser contestant here I come!) According to the calorie count website, if there is 330 calories in a Macdonald's cheeseburger, which means I would have consumed 6 cheeseburgers in total!
---
SupersizedMeals.com
http://www.supersizedmeals.com/food/article.php/20090310-Fools_Gold_Pancake