Chinese Chef Makes World's Longest Noodle
Sunday, September 13 2009 @ 03:04 pm UTC
Contributed by: Billy
This guy sure knows how to use his noodle. From only 1kg of Flour, he managed to make a noodle 2,852 meters long. !!!!!! Not sure if I'd want to eat it after it's been sitting on his head, but still, that's a lotta noodle!
From: http://www.odditycentral.com/news/chinese-chef-makes-worlds-longest-noodle.html
Li Enhai, a talented cook from China, insured himself a spot in the Guinness Book of Records after making a 2,852 meters long noodle, with just one kilogram of flour. In the photos, you can witness his noodle stretching technique, at a hotel opening, in Keshikten, northern China, on July 29.
[CONTINUED]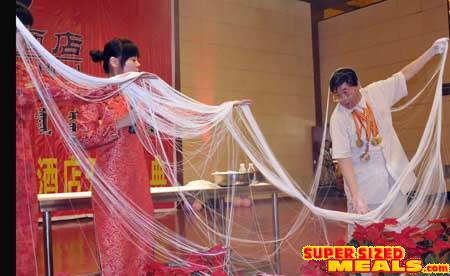 Making the noodle

Some crazy throwing in the air action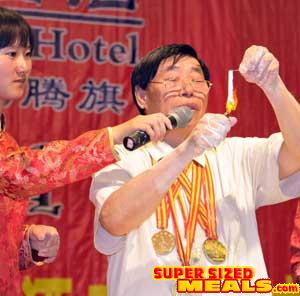 nfi what he's doing here...
---
SupersizedMeals.com
http://www.supersizedmeals.com/food/article.php/20090913-Worlds_Longest_Noodle