Chici Mac, 26 Pattys
Saturday, June 10 2006 @ 03:11 pm UTC
Contributed by: Billy
Another Mega Mac Mega Champion! This Japanese Mc Creation has 26 all beef pattys. (hold the pickles!) And why they called the second largest one a "Buffalo Berry Mac", I have no idea...
From: http://www007.upp.so-net.ne.jp/fukuda/diary/yotta.html
(GoogleTranslated) The [te] with reason, some reason it is to be decided that we challenge to this "YOTTA MAC". When furthermore it tries inspecting, then, when still there is such a unit on YOTTA, is. When so, if it becomes, only you do, probably will be. With being the case that it is said, being nonstop from here, please enjoy.

[CONTINUED]

Big Mack

Mega Mack

Giga Mack

Tera- Mack

[petamatsuku]

Exa Mack

[zetsutamatsuku]

[yotsutamatsuku]
Unexpected simply to here arrival. Unless from here and others side the finder is made length, it does not enter. The [te] furthermore it continues with reason.

[hapimatsuku]

[guruchimatsuku]

[zetsupimatsuku]

Buffalo berry Mack

And, [chikimatsuku]
As for meat 13 x 2 = 26.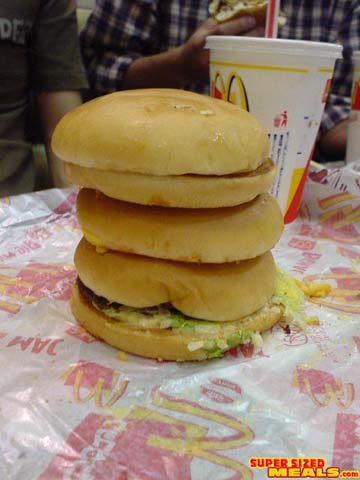 Being defeated and pan.

… The society member who good year is done approaches as many as 8 applying, there are no times when it does is. This workplace highest.

Of course, after this it is tasty with everyone (?)You ate.

Comments (0)
---
SupersizedMeals.com
http://www.supersizedmeals.com/food/article.php/20060610151148173