GoldWissen, the Gold Plated Sausage!
Wednesday, March 14 2007 @ 08:11 pm UTC
Contributed by: Billy
From our earlier story on Gold Leaf Topped Pizza comes more crazy gold leaf cooking, this time from Germany! It seems that cooking with gold has been around for centuries. Since medieval times, it was believed that by adding gold to meals, it would help to prolong life, reduce pain and heart disease, and bring strength to those in battle. The Germans continue this fine tradition by adding gold leaf to .... sausage?
From: http://google.com/translate?u=http%3A%2F%2Fwww.litfass-luebeck.de...
(and an anonymous commenter, thanks!)
(Google Translated) From far countries in the evening country and of the antiquity over the Middle Ages and the Renaissance history goes from gilded meals. In old times gold in benefit and food was well-known, and gold foil for refining and Verzieren by meals and drinking, in addition, to mythischen rituals and welfare purposes was already used.
[CONTINUED]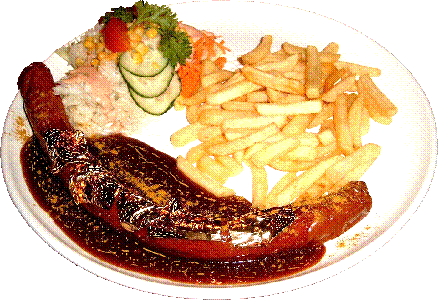 Apparently protecting against purge and eternal life lending, was always gold the epitome of the highest one and noblest one. Thus it was called also as means against world pain and heart illnesses, and it should lend new and particularly strong forces to tired men, on battleground and the dear camp. Thus it was considered also as good charm drink absolutely, as means against accumulated frustrations, Maladie of the heart, sadness, nausea and loss of appetite. Dear grief should be defeated thereby. And the love is sealed and also in our days in gold: Today still are nearly all engagement and marriage rings made of the absolutely noble metal. Gold, means it is to bring more power. Not only from the sight, but also internally. Gold foil also as a component of drinking cures in therapeutic baths, like Karl bath or Baden-Baden, applied, and it gives it also as "Aurum so mentioned metallicum" and "to Aurum colloidale "in the Homöopathie. For humans, who are interested in the finematerial, it has a meaning as compensatory factor for the oscillation forces. It is to affect energy centers in the body, like e.g. glands and Chakren, favorably, when serve catalyst for internal energies and strengthen in the physical one the strength. From alchimistischer view gold corresponds to the fine oscillation, sun and health symbolizing.
The gold cook of the modern times takes up meanwhile an old custom: It gilded already times noble courts and festive beverages and makes the best with pure hochkarätigen gold foil from simple one. We use carat gold foil excluding 24!
Comments (0)
---
SupersizedMeals.com
http://www.supersizedmeals.com/food/article.php/20070315-Goldwissen_Gold_Sausage