The Super Burger Dog
Wednesday, August 22 2007 @ 02:12 pm UTC
Contributed by: Billy
Much the same as The Hot Dog Rollup, this fine Supersized Calorie Creation will bring sharp pains of joy to your heart. It's a hot dog, wrapped in cheese, mince, bacon, and grilled on the BBQ. Normal hot dogs have nothing on this puppy!
From: http://www.dizzypigbbq.com/recipesBurgerDogs.html
A burger? A dog?? NO! It's a Super Burger Dog. Thanks to QBabe for this wonderful idea! I'll give a brief explaination and let the pics explain themselves. After the pics, I'll give some hints/changes for doing them again. My apologies to the dial up posters :(
[CONTINUED]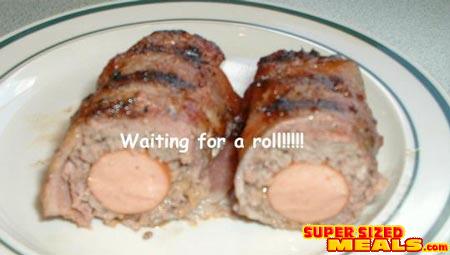 I used 3 1/4 oz of plain straight Ground Chuck for each one. Flattened out to just a tad longer than the dog. I added a couple slices of Colby Jack cheese and then molded the burger around the dog and the cheese. Just a sprinkling of S n P and garlic powder on the burger first. I pinched the ends tight and rolled a slice of bacon around the burgerdog and fastened each end with a toothpick. I then dusted lightly with Dizzy Pigs Dizzy Dust for added flavor. Cow Lick would also be excellent. I put the finished product in the freezer for approx 45 minutes to 'set up' and be easier to handle for the grill.
These were grilled direct, on a grid extender, for about 15 minutes at 325-350° dome temp, turning a few times. Straight lump, no extra smoke added.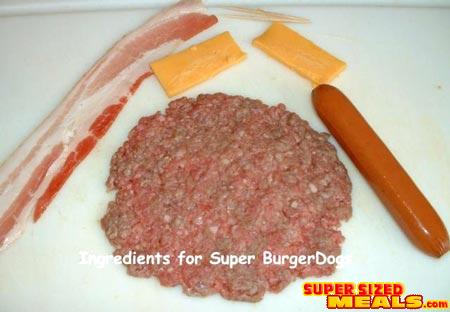 Don't forget the Dizzy Pig rub!
I was MORE than happy with the results. I might tweak the seasonings (Dizzy Pig Cowlick), change the cheese next time (Jalapeno or Swiss) and possibly add some chopped onion in there some where ;). I didn't have much problem with the ground chuck, but if one were to use use a leaner burger, I would suggest putting in an egg to help bind the meat together. Serving with some grilled peppers and onions wouldn't hurt anything, either!

Rumrunner
---
SupersizedMeals.com
http://www.supersizedmeals.com/food/article.php/20070822-The_Super_Burger_Dog