The Bacon Apple Pie Recipe
Thursday, November 15 2007 @ 01:12 pm UTC
Contributed by: Billy
Remember the Bacon Apple Pie we posted last month? Well the inventor of this culinary masterpiece found us and let us post the recipe on the site! Behold! The Bacon Apple Pie Recipe in all its glory! If you do manage to make one yourself, take some pics and send them in, we'd love to hear about it!
From: http://eclecticgecko.com/blog/?p=5
My love affair with bacon is well-documented in my artwork. Living la vida loca of the Starving Art Student leads one to seek ever cheaper substitutes for proper nutrition. The local Cash & Carry willingly obliges by selling 15-lb flats of bacon for $0.87 a pound, making it the cheapest meat available in the region. Despite much eye-rolling and finger-shaking by my peers that I'd suffer eighty-seven heart attacks in a year with all the bacon I eat, I've actually lost ten pounds and my cholesterol is so depressingly normal that it's too boring to write about. Meanwhile, my neighbors have dubbed my dwelling-place The House That Bacon Built.
[CONTINUED]
I joked last spring when printing my drypoint engraving All Day I Dream About Bacon that I was going to put bacon on an apple pie. No one believed me.
Until last Saturday, that is, when I marched to the Arcata Farmer's Market in search of Gravenstein apples…
Gravenstein apples are tart and crisp, ideal for pies and snacking. These Gravensteins came from a farm in Willow Creek, California, less than 100 miles away. Eating local food is a smart choice at any time of year, but September is also Local Foods Month in Humboldt County. What better way to celebrate than with a pie?
My main concern with this pie was that the bacon would make the apple pie too greasy. To avoid this, I fried the bacon first and then crumbled it to manageable portions. I then lined the pie crust with bacon pieces, and mixed the rest in with the apples. Yes, there's a recipe at the bottom.
From there it was just a matter of laying out the top crust and engaging in a bit of arts and crafts…
And into the oven it went.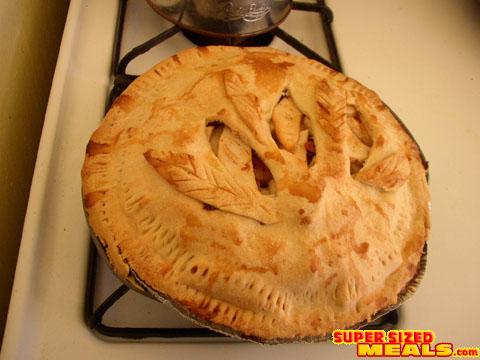 So how was it?
I wouldn't be posting this if it wasn't absolutely incredible. It wasn't greasy like I thought it would be. The flavor was a perfect balance of sweet and salty. I served it up with slices of smoked cheddar cheese for a room full of amused but open-minded skeptics, and the entire pie was gone in 10 minutes.
Now, for the open-source entertainment. Try this out and tell me how you liked it. Improve on it if you can! Share this recipe with others. The information wants to be free!
Bacon Apple Pie
Ingredients:

Pastry for 9-inch pie, uncooked

6 cups apples, peeled and cut into thin slices (about 2 1/4 lbs or 8 medium apples)

3/4 lb uncooked bacon

3/4 cup sugar

2 Tbl flour

1/2 tsp ground cinnamon

1/4 tsp nutmeg

1 Tbl milk

1 Tbl sugar
Directions:
Fry bacon in skillet until slightly floppy. Drain on paper towel. Chop bacon into 1/2″ pieces. Line bottom of pastry-lined pie plate with a layer of bacon, reserving the rest.

In a large bowl, mix together 3/4 cup sugar, flour, cinnamon, and nutmeg. Add apple slices and remaining bacon pieces. Toss to coat.

Transfer bacon-apple mixture to pastry-lined pie plate. Place upper crust on pie plate (bonus points for a lattice, double bonus points if you can show me a bacon lattice!) and seal. Cut slits in the top if you are using double crust to allow to vent. Brush top with milk and sugar. Bake at 375 F for 1 hour or until bubbly.

Cool on a wire rack. Serve with smoked cheddar cheese slices.
---
SupersizedMeals.com
http://www.supersizedmeals.com/food/article.php/20071115-The_Bacon_Apple_Pie_Recipe