The Meat House
Thursday, February 07 2008 @ 01:06 pm UTC
Contributed by: aaron
Don't know if you've seen these before or not.
http://forums.somethingawful.com/showthread.php?threadid=2669292
Yesterday my flatmates and I created this, a house made only of meat.. Similar to a gingerbread house, but purely pork based. Vegetarians please look away now.. Here's the steps:
[CONTINUED]
Starting to lay the walls on a bed of breadcrumbs:
Building up the walls more:

We decided kebab sticks would be a good addition to hold it together during the cooking:

Creation of the lawn, (750g of sausage meat, seasoned with sage, and a load of food colouring):

Laying down the lawn, and starting the roof:

Adding the roof, streaky bacon of course:

A few more additions, some seasoning, a paprika car and a bird bath:

Oven time!

100 minute later:

Kebab stick removal, now everything inside is totally edible: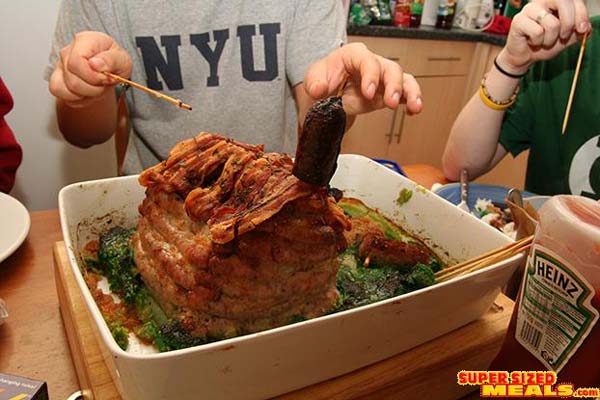 And that's it, meat house complete:

Ingredients:
~20 sausages
12 rashers of bacon
1kg of sausage meat
2/3 a packet of bread crumbs
= 5870 calories...

6 of us managed to complete about 75% of it in one sitting
---
SupersizedMeals.com
http://www.supersizedmeals.com/food/article.php/20080207-The_Meat_House