The Deep Fried Peanut Butter Cookie Dough Corn Batter Dipped Brownie
Thursday, February 12 2009 @ 01:12 pm UTC
Contributed by: Billy
The Superbowl. The only time of the year when you can get away with this sort of stuff as a party snack. Check out this golden-brown ball of fatness. It's The Deep Fried Peanut Butter Cookie Dough Corn Batter Dipped Brownie. Unlike our previous fail post, this one actually looks mighty tasty!
From: http://www.flickr.com/photos/25589847@N06/sets/72157613298121918/
It was delicious, but milk was required. Contains only salmonella-free peanut butter.
[CONTINUED]

step 1: ball of brownie

(Source:

hoppzor

)

step 2: peanut butter (Source: hoppzor)

step 3: cookie dough (Source: hoppzor)

corn assault and batter-y (Source: hoppzor)

frying begins (Source: hoppzor)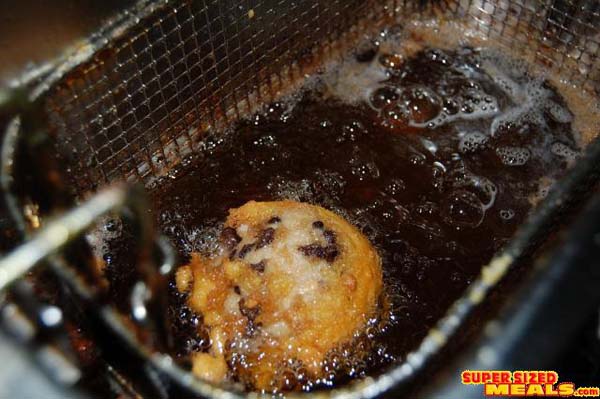 monstrosity sizzles (Source: hoppzor)

deep fried peanut-butter-cookie-dough-corn- batter-dipped brownie (Source: hoppzor)
Comments (0)
---
SupersizedMeals.com
http://www.supersizedmeals.com/food/article.php/20090212-Deep_Fried_Peanut_Butter_Cookie